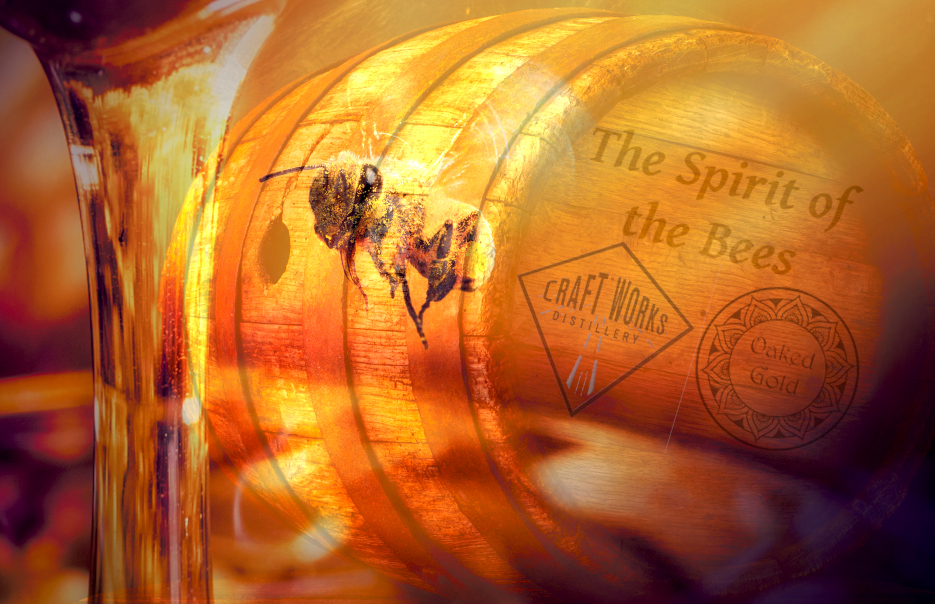 The Spirit of the Bees Project
A great big update on this : We have run our first batch .
With Mead being as old as it is, it only stands to reason that it was once a common source of product for distillers to ply their craft to. It was after all the primary sugar source for many regions right up until five or six hundred years ago.
Just as Mead lost its foothold as the drink of popularity and was replaced by grape and grain products, it also lost its place in the distillation houses as they found these cheaper alternatives. 
When I mention distilling Mead to people, I get a mixed response, but often get told it would be a waste of good honey. I don't agree, unless one is aiming at making a clear spirit and stripping flavours, in which case, then I do agree and see no point in using honey. I am using very high grade honey here, quality matters.
Although the aim of a Vodka producer is to come up with a clean and neutral flavour, this is not the aim of the Whisky or Brandy crafter who are looking to capture and enhance certain flavour profiles during the distillation process. This is why the source ingredients are so important to these artisans, this is where the flavour of their spirit starts.
For a brandy producer it starts with the grapes. Or does it start with the soil, the season and the care given to growing the grape? Of course it does. 
For a Whisky crafter it starts with the grain. Or does it start with the soil, the season, the fertilizers, etc etc, I think it does.
Both of these spirits are produced with an aim of retaining and enhancing flavour. If this same approach is taken with honey as the flavour source, then surely we can create an amazing product that captures and presents the honey tones: a spirit that captures the spirit of the bees.
When such a project was suggested by Crafty Fields of Craft Works Distillery, I just had to throw my Mazer's cap in the ring. This man is an artist with his still, his work reflects his passion and artisan approach. I urge you to try his "I Am" Whisky, it will occupy your thoughts for a long time afterwards, his Gin is unique and makes a statement about just how good Gin on its own can actually be. 
You can taste the passion and infectious enthusiasm in his craft work.
The Mead was crafted specifically for this project from different honey. These batches were blended to create the distilling blend which was then be transported to Capertee for its next step along the way. 
Once at Craft Works shed, the mead was double distilled using Craft Works' Sunflower No1 Still, a beautiful piece of equipment. with Crafty pulling through as much flavour and aroma as possible. 
This is an exciting process to be partnered in. Oliver, Crafty and Myself took a fine product, and turned it into a new product: one we are really proud of. We look forward to how it progresses in its barrel, and of course look forward to sharing it with others.
I am both excited and proud to be working on this project with Craft Works Distillery, creating a new product is always an exciting endeavour, even more so when it is in collaboration with a fellow craftworker such as Crafty.
I will keep updating this page as the project progresses.
Crafty can be found on Facebook, his website can be found at craftworker.com.au

 I can be reached by email This email address is being protected from spambots. You need JavaScript enabled to view it.  or by phone on 02 8091 6323.
'It is against the law to sell or supply alcohol to, or obtain alcohol for, anyone under 18'
Paul Mills Trading as Oaked Gold Fortifieds
ABN 18 603 381 461
NSW Liquor Licence number  LIQW880015329
Oaked Gold™ and Ministry of Mead™ are registered trademarks.